Shopify Stock: Increased Freelancing Could Provide Protection (NYSE:SHOP)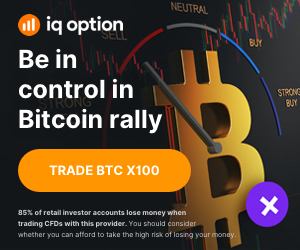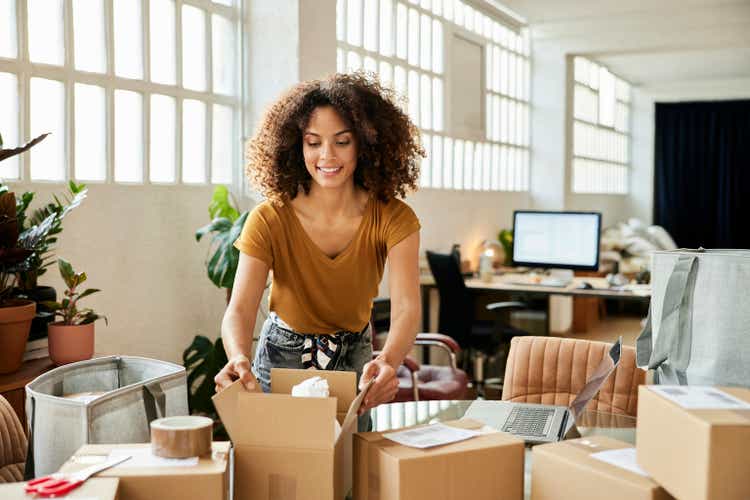 Shopify (NYSE:SHOP) is making smart decisions to prioritize its long-term profits and reputation over short-term returns. The acquisition of Deliverr is allowing the company to improve its supply chain and launch Shop Promise. This program will give merchants access to 1-2 day shipping and verification badges to ensure reliability and improve the company's reputation. This, along with the fading tailwinds from the pandemic, will likely cause difficulties for the company in upcoming periods due to increased costs and lower demand. On the other hand, the rise of freelancing will help offset these costs as it will likely lead to more subscriptions and transactions on Shopify stores. However, the stock still appears that it will continue to drop, meaning investors may want to wait before jumping in.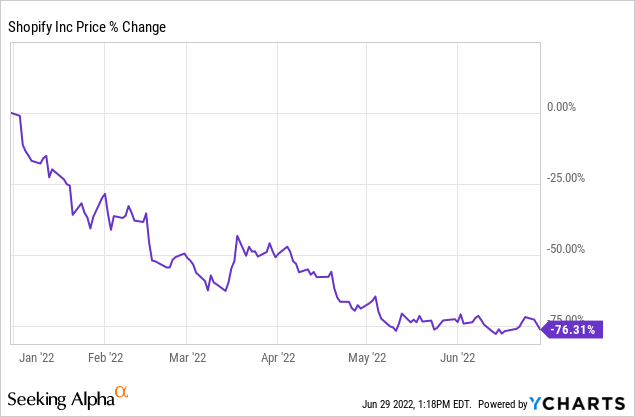 Shopify is Focusing on the Long Term at the Expense of the Short Term
In one of my previous articles covering Shopify, I explained why I believe the company is prioritizing long-term profits over short-term returns. While this will be great for investors in the long run, it also likely means the stock will continue to drop over the coming periods.
The first way Shopify is prioritizing long-term profits is through the acquisition of Deliverr. Deliverr will help improve the Shopify Fulfillment Network and allow merchants to have access to a simpler and more effective supply chain. Deliverr is a competitor of Amazon Prime (AMZN) by allowing merchants to provide 1-2 day shipping and further solidifies Shopify as a strong e-commerce brand. Deliverr is able to meet these promises by renting warehouses across the United States and supplying them with popular items sold in each area. This will allow Shopify merchants to provide better service for their customers, improving the long-term health and reputation of the company. However, these changes to logistics also will be costly in the short term and possibly lead to the company's margins contracting over the coming periods.
The acquisition of Deliverr also allows the company to launch Shop Promise. Shop Promise is a new service that allows merchants using the Shopify Fulfillment Network or Deliverr to offer next-day or two-day shipping. Furthermore, the service allows proven merchants to display a verification badge similar to social media sites. This ensures customers that the merchant is reliable, solving a major issue with many e-commerce sites. Once again, this helps improve the long-term reputation of Shopify but increases logistics costs heavily in the short term.
The Rise of Freelancing Could Help Offset the Higher Costs
Although Shopify will likely face higher costs and lower demand for e-commerce due to the fading pandemic in the short term, a possible upcoming recession could cause a rise in freelancers to become merchants through Shopify. With inflation on the rise, interest rates seeing hikes, and less big-ticket items being purchased, many analysts and investors are projecting a recession will likely happen in the upcoming future. However, this may not be all bad for Shopify's business.
During a recession, unemployment increases dramatically. During the Great Recession, unemployment peaked at 10%. More recently, unemployment peaked at 14.8%. With workers losing their jobs and needing a source of income, many turn to freelancing and therefore open an e-commerce store. In 2020, the number of full-time freelancers increased by 8% and part-time freelancers increased by 4%. On the other hand, people who did freelancing as a side job decreased by 11%. With freelancing becoming the full-time job of many workers, Shopify stores will see more time put into them. This will lead to higher quality stores, better products, and an improved reputation for the company in both the short term and long term.
Along with the number of freelancers increasing in 2020 and other recessions, it's also expected to rise steadily over time. From 2021-2028, the number of freelancers in the United States is expected to rise at a CAGR of 4.2%. This means the total amount of freelancers in 2028 could reach 90.1 million. This would supply Shopify with more merchants using its services and lead the company to achieve higher fundamentals in both the short term and long term.
Along with the supply of freelancers increasing, the demand increases with it. During a recession, many companies lower their headcounts to decrease costs. Although these companies lay off employees, they still need their projects to get done. This causes them to turn to freelancers due to their affordability from working less hours and not receiving benefits. This would benefit Shopify because its merchants would see more orders and larger purchase amounts from companies than from normal consumers, allowing Shopify's fundamentals to improve.
The rise of freelancers during a possible recession would benefit both Shopify's revenue streams through more merchants signing up and higher transaction volumes. The company's Subscription Solutions revenue would see improvements due to more merchants signing up for the service. This would directly lead to the company's topline improving in the short term. However, only 29% of the company's total revenue is generated through subscriptions. The other 71% is generated through the Merchant Solutions segment and this is becoming the real winner for the company. This segment generates revenue through transactions fees and using Shopify's services to complete orders. Therefore, higher transactions volumes would lead to a much higher revenue. As stated before, both the supply and demand for freelancers increase during a recession. With the likelihood that a recession is coming soon, Shopify's future volumes will likely increase and lead to even higher revenue for the Merchant Solutions segment.
Valuation
To find the value of Shopify stock, I created a relative valuation for the company. By combining consensus analyst estimates for FY23 with the average valuation multiples of EV/Revenue and P/S of Shopify and its competitors, a fair value of $26.16 can be calculated after adjusting for net debt. This implies a downside of 20.65%.
However, it's important to note that the entire e-commerce industry has been falling recently due to fading tailwinds from the pandemic and the return to in-store shopping. Therefore, the average valuation multiples of Shopify's competitors will likely continue to fall and cause its projected fair value to fall with it. Therefore, I believe investors should begin to consider jumping into the stock in the $25-$30 range.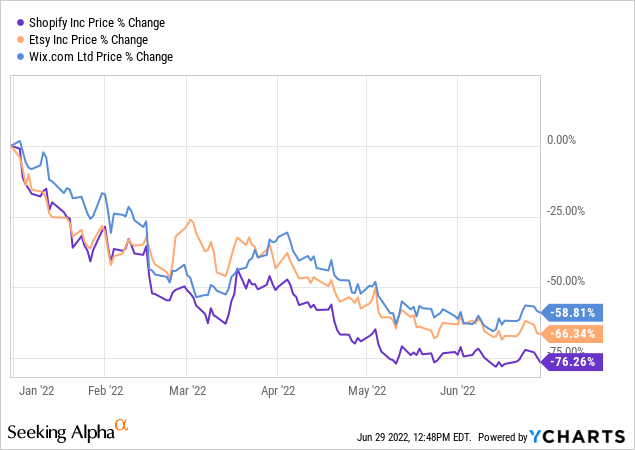 What Does This Mean for Investors?
Shopify is making strides to improve the long-term health of the company and improve its reputation among consumers. The acquisition of Deliverr and launch of Shop Promise will help improve the supply chain for merchants in the long run, however, it will likely lead to massively higher costs in the short term as management adjusts the company's logistics. These higher costs could be partially offset by the rising popularity of freelancing, especially during a possible recession. Although e-commerce is facing difficulties due to the return of in-store shopping, the increasing likelihood of an upcoming recession could lead to more subscriptions and transactions volumes for Shopify. This would directly benefit both of the company's revenue segments and help protect it against economic downturns. However, the stock still appears to be slightly expensive and will likely drop more due to the near-term projects. Because of all of this, I will apply a Hold rating at this time.
https://fbs.com/?ppk=forexplatform&lang=en

Source link