Savara: A Speculative Play (NASDAQ:SVRA)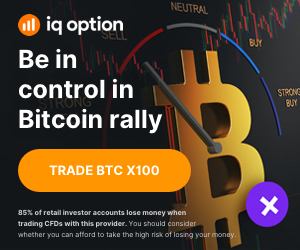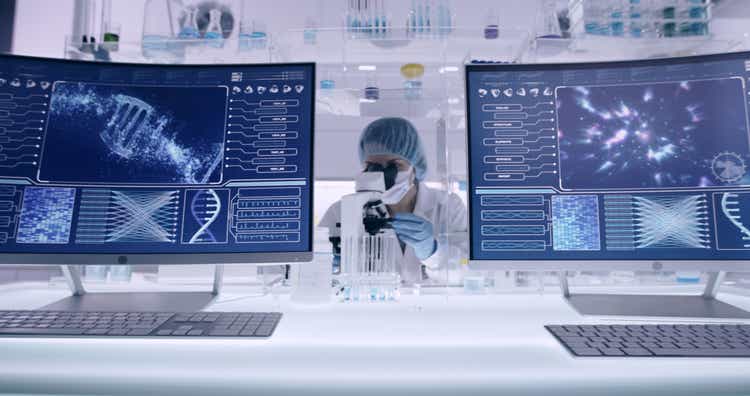 May your choices reflect your hopes, not your fears."― Nelson Mandela
We have not taken an in-depth look at Savara (NASDAQ:SVRA) since our last article on this small developmental concern back in May of 2021. The stock has been in a trading range since early 2020 but has moved up lately. The company just announced a secondary offering to raise additional capital. Therefore, it seems a good time to circle back on Savara. An updated analysis follows below.
Company Overview
Austin, TX headquartered Savara, Inc. is a clinical stage biopharmaceutical company that is focused on developing effective new treatments for rare respiratory diseases. Currently the stock trades for around three bucks a share and sports an approximate market capitalization of $370 million.
The company's main asset in development is a nebulizer solution of molgramostim called Molgradex. This is an inhaled granulocyte-macrophage colony-stimulating factor (GM-CSF). This product candidate is in Phase 3 development for autoimmune pulmonary alveolar proteinosis or aPAP. Management believes that the inhalation of molgramostim will activate macrophages in the lung alveoli. This in turn has the potential of restoring the surfactant-clearing activity of the alveolar macrophages and considerably improving oxygenation. This candidate has garnered Fast Track Designation, Orphan Drug and Breakthrough Therapy Designations from the FDA.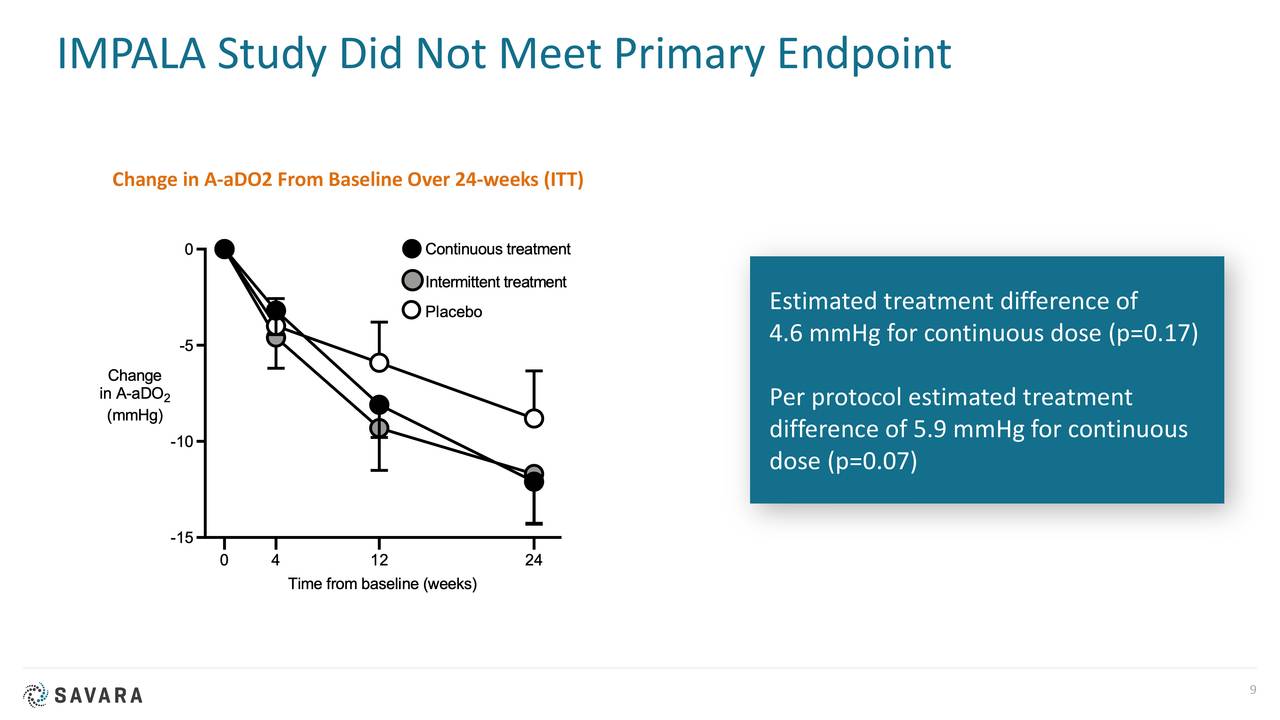 In 2020, the company published results from a study called IMPALA. This Phase 2/3 trial involved nearly 140 patients and was a randomized, double-blind, placebo-controlled trial of molgramostim to treat aPAP with sites in more than dozen countries.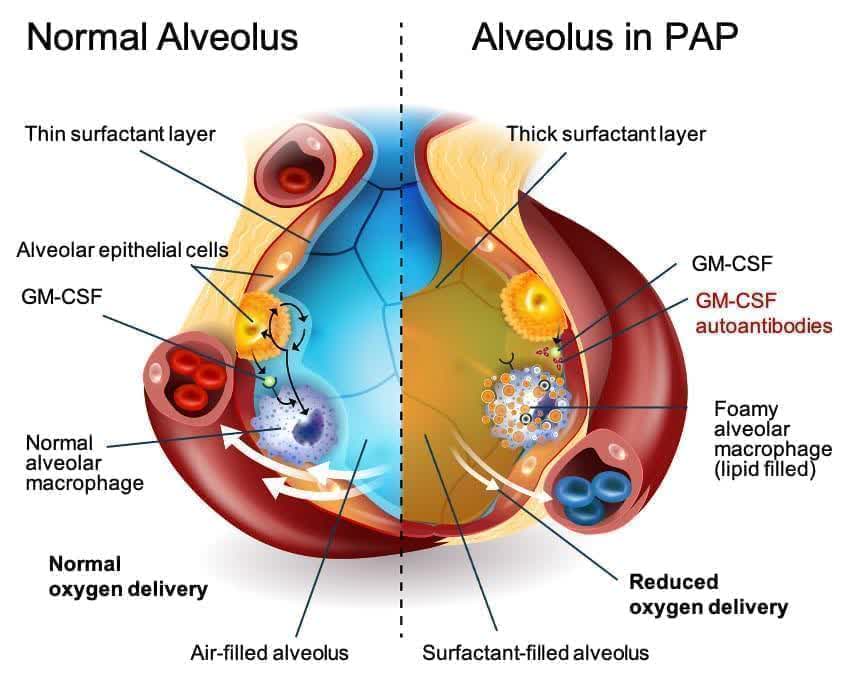 aPAP is a rare lung disease. It is caused by an autoimmune response against GM-CSF. GM-CSF is a naturally occurring protein in the body. It is required for immune cells, called macrophages, to properly clear surfactant from the alveoli.
There are no approved drugs to treat aPAP. Currently, the standard of care is a procedure called Whole Lung Lavage. This uses a saline solution to "wash out" the lungs. It can be quite discomforting and doesn't treat the root cause of the disease. The diagnosed aPAP population is just under 2,500 in the U.S. but Oppenheimer believes the total population of those afflicted with this indication is closer to 10,000.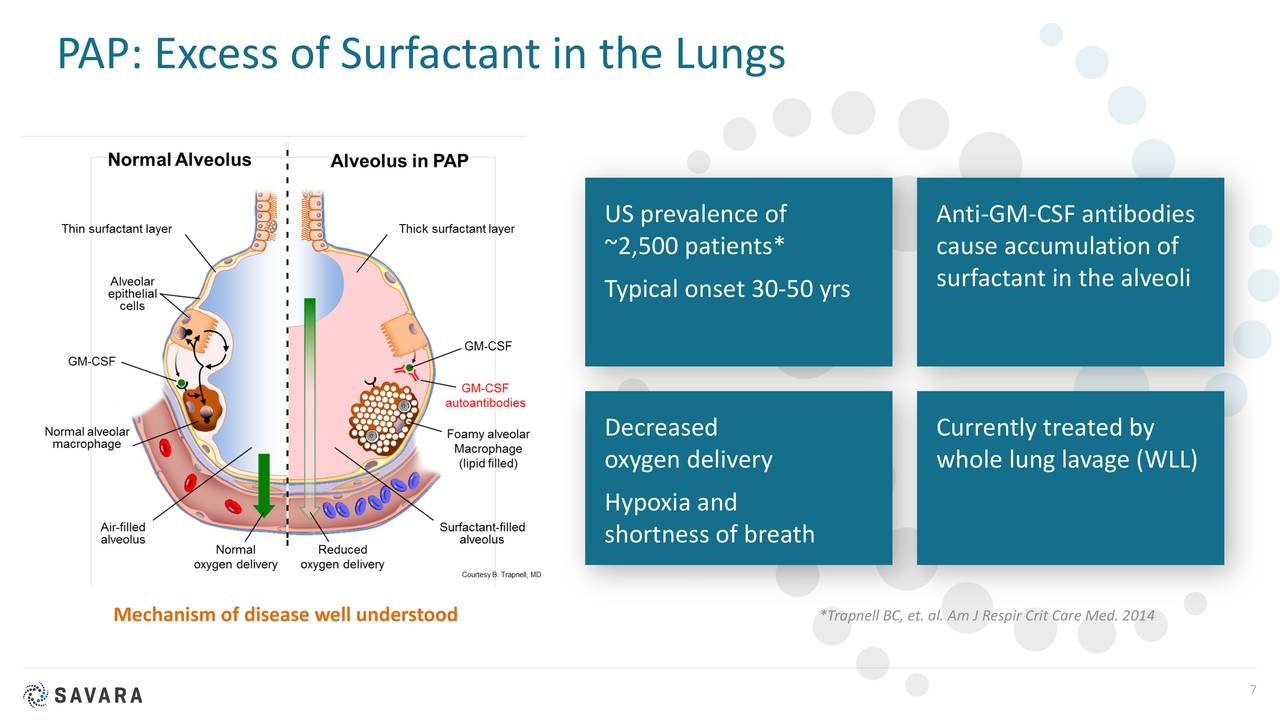 A pivotal phase 3 study IMPALA-2 should be fully enrolled now. The first person was dosed in this study back in June of 2021. The Covid pandemic complicated/delayed the enrollment process. A top-line readout from this trial is due out in the second quarter of next year. This is a 48-week placebo-controlled study.
Analyst Commentary & Balance Sheet
Since May, four analyst firms including Jefferies and Piper Sandler have reissued Buy/Outperform ratings on the stock. Price targets proffered range from $3 to $7 a share. In mid-May, Jefferies raised its price target on SVRA to $4 to $2 a share and upgraded the stock. Its analyst thinks there is a '60% – 65% probability that the drug can yield positive results from IMPALA-2 and projects a downside of 60% – 80% in the event of a negative outcome.'
Almost five percent of the outstanding float in the shares is currently held short. One company director purchased nearly $260,000 worth of shares in late May of this year. Another bought $19,000 in June. That has been the only insider activity in the stock so far in 2023.
The company ended the first quarter with nearly $115 million in cash and marketable securities on its balance sheet after posting a net loss of $10.6 million for the quarter. That will be topped off by the just announced $80 million capital raise.
Verdict
With the recent capital raise, Savara has enough funding in place to reach the commercialization stage provided IMPALA-2 stays on schedule and produces the positive results needed to achieve FDA approval.
There are several risk factors of note around Savara. The FDA rejected the company's marketing application targeting aPAP late in 2019. In addition, IMPALA did not meet its primary endpoint. IMPALA-2 will exclude patients on supplemental oxygen and is using a different, FDA-approved primary endpoint. Management hopes this will produce the necessary data to garner marketing approval.
Savara is a one-trick pony and will 'ride or die' with the success or failure of IMPALA-2. Therefore, it should be considered a 'lottery' ticket only worthy of a small holding by the most speculative of investors. I am passing on investment recommendation around SVRA as I don't find the risk/reward profile around the stock compelling at this time.
To be truly radical is to make hope possible rather than despair convincing"― Raymond Williams
https://fbs.com/?ppk=forexplatform&lang=en

Source link