Planet 13 Is A Good Way To Invest In American Cannabis (OTCMKTS:PLNHF)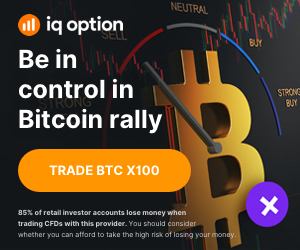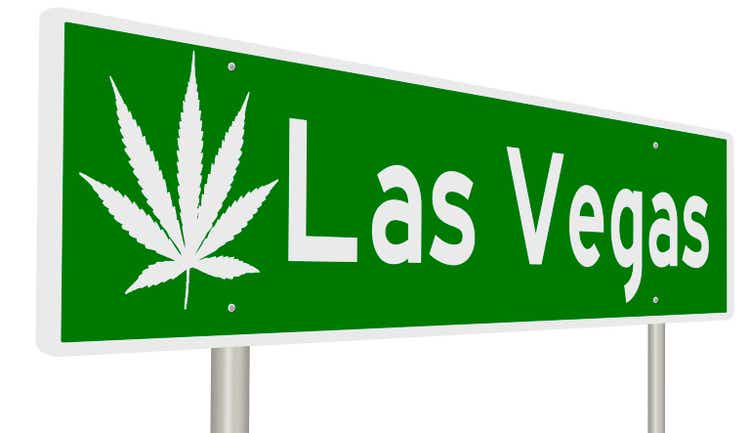 I wrote about Planet 13 Holdings (OTCQX:PLNHF) in early December, suggesting that the stock should do better in 2023. I didn't own any in my model portfolios at 420 Investor at the time and was looking for a dip. I ended my partnership with Benzinga at the end of the year, but I will be opening 420 Investor at Seeking Alpha on May 15th.
When I wrote about Planet 13, I was looking to buy the dip, and boy did it dip! The stock had closed right before the article was published at $1.15. It ended the year at $0.61, a 3-year closing low. I launched two model portfolios right at year-end, and I included Planet 13 in both. It was initially 6.1% of my Beat the Global Cannabis Stock Index model portfolio, and it was 12.1% of my Beat the American Cannabis Operator Index model portfolio, a new concept for me.
This is the recent price action: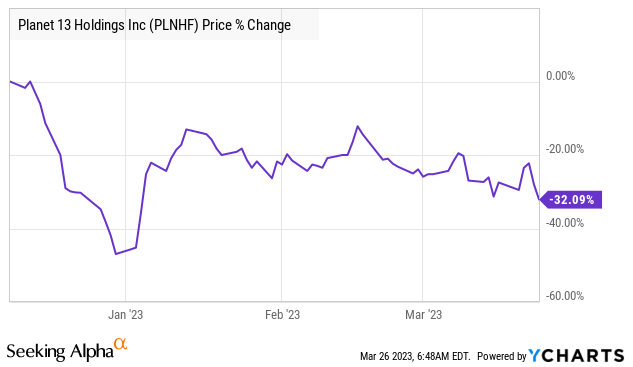 PLNHF stock is now 32% lower than when I wrote about it but up 28% year-to-date and since I added it to the model portfolios. Since year-end, the New Cannabis Ventures Global Cannabis Stock Index has dropped 12.7%, and the New Cannabis Ventures American Cannabis Operator Index has declined 8.4%.
When the stock rallied early in the year, I exited the name at a big profit. It wasn't in the Global Cannabis Stock Index, and it was removed from the American Cannabis Stock Index at the end of February, but I added the name recently to both model portfolios. I currently own a 3.3% position in Beat the GCSI, and I have a 9.2% position in Beat the ACOI.
In this piece, I confirm my bullish outlook and explain why I am buying the stock in my model portfolios at the current price despite the rally from year-end in a declining market overall.
Updated Financials
Last week, Planet 13 delivered Q4 financials and filed its 2022 10-K. The quarter was very close to expectations, with revenue falling sequentially by 3% to $24.8 million, down 17% from a year ago. This was a bit better than expected. Adjusted EBITDA of -$800K was a bit worse than expected.
For all of 2022, the company generated revenue of $104.6 million, down 12.5% from the prior year. $18.1 million of the revenue was from California ($9.8 million retail), up from $5 million in 2021 (all retail) following the acquisition of Next Green Wave. Nevada retail revenue was down 25% to $80.6 million, while its wholesale business expanded 26%. Its gross margin fell from 55.2% to 45.9%. Adjusted EBITDA was $3.5 million. It ended the year with $52.4 million cash and less than $1 million in debt. The company has no options or warrants with exercise prices nearby and can rally a lot without dilution.
Cash flow from Operations for the year was $3.8 million, and the company invested $16.7 million in capital spending as it completed a project in Las Vegas and developed in Florida, where it will commence sales this year. For Q4, the company generated $1.5 million in operating cash flow, and it spent $2.1 million on capital spending.
Looking ahead to 2023, the company has just 2 analysts, Canaccord Genuity and Cantor Fitzgerald, which initiated coverage in February at a neutral rating with a $0.95 target price. On the conference call, there was no questioning from Cantor Fitzgerald, though an analyst from Beacon Securities did ask questions.
According to Sentieo, the system I use to monitor the consensus, the analysts didn't adjust their 2023 estimates substantially, which are for revenue to increase 10% to $115 million with adjusted EBITDA of $10 million. Ahead of the report, the revenue had been expected to be $117 million with adjusted EBITDA of $15 million. On the conference call, the company suggested that the first half of the year would be relatively flat with growth in H2.
There currently are no 2024 estimates at all! I think that revenue will be higher than the analysts are forecasting for 2023 as Florida turns on. I am not sure how much the analysts are expecting for the company's new store in Illinois near the Wisconsin border, but this should be a winner.
My current projections for 2024 are for revenue to reach $150 million, up 25% from my expectation for 2023 as Nevada recovers, the company expands in California and as new operations in Florida and in Illinois begin to produce revenue. Adjusted EBITDA should be 15% of revenue, or $22.5 million. The margin was 14.1% in 2021.
Good Valuation
When I wrote about Planet 13 in early December, I noted that the price-to-tangible-book-value ratio was only 2X, rather low for MSOs, most of which have negative tangible book value. Today, it is just 1.4X. For a company with cash and no debt at all, this is a great level in my view.
In that last article, I shared a target price for year-end 2023 of $1.85 based upon a multiple of 12 for the enterprise value to adjusted-EBITDA that I project for 2024. I am now using just 8X, and my current target is $1.23, up 57% from the 3/24 close of $0.781. I think that there are likely to be cannabis stocks with higher returns, but I think that Planet 13's risks are a lot lower than most cannabis and cannabis-related companies.
Here is a look at the 2023 estimates for Planet 13 Holdings and the 9 largest MSOs:

Planet 13 Holdings stands out for its balance sheet as the only one that has net cash. The market cap is lower than most of these, but not the lowest. Note that the ratio of enterprise value to projected adjusted EBITDA is higher than most and above the average, which is very low historically at just 5.7X. The company's projected margin is the lowest by far. I think that as time passes, higher revenue growth than the peers and improving margins will help the valuation. Note that the projected adjusted EBITDA growth in 2023 is by far the highest among this group.
Attractive Chart
The all-time chart shows a lower price in late 2018, but the price is way down from its all-time high a little over two years ago: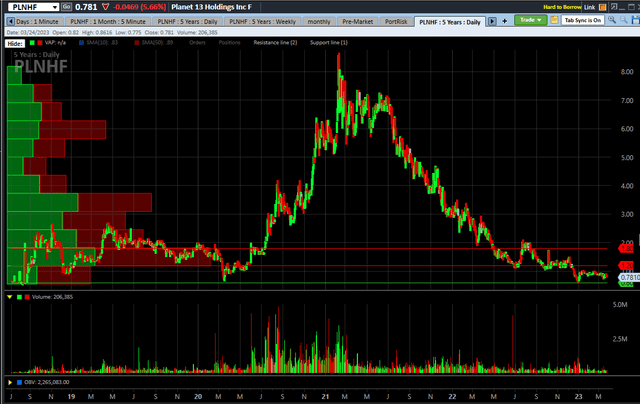 Since its all-time closing high on 2/10/21 of $8.19, the stock has plunged 90.5%.
My current target of $1.23 at year-end is at the low-end of the $1.20-$1.80 bolus of volume that is the largest in the trading history. My old target was near the high-end. I continue to think that my old target could be attainable this year, though I am not expecting it at this time.
I have been highly critical of the AdvisorShares Pure US Cannabis ETF (MSOS), which is excessively concentrated on the 5 largest MSOs, currently at 78.6%. The ETF stock price is down 16.7% year-to-date, and it has seen some redemptions over the past three months. The shares outstanding of the ETF have dropped 4.6% in 2023 and 12.5% since mid-December. It holds 7.67 million shares of PLNHF, and there is a risk, in my view, that the ETF could sell some Planet 13 if it gets additional redemptions.
Conclusion
The cannabis sector is under extreme pressure, and there is no clear sign of improvement ahead. Planet 13 Holdings has a fantastic balance sheet with limited operations that should see expansion in Florida and in Illinois. The company is very big in Nevada, which has been hurt by the pandemic. It is relatively new to California, where it is now growing. My outlook doesn't credit Florida for going legal potentially for adult-use. This would be fantastic for Planet 13.
Trading at just 1.4X tangible book value, the stock seems really cheap to its assets and its potential. The company is not widely followed with no forecasts at all for 2024 yet. By my own analysis, the stock should do very well as both revenue and adjusted EBITDA expand that year.
I like the fact that the gentlemen running the company are real business people, unlike their peers, who tend to come from legal or financial backgrounds and don't really have a lot of operating experience.
While Planet 13 Holding has rallied so far in 2023, it has pulled back from its highs in January and look very attractive to me.
Editor's Note: This article discusses one or more securities that do not trade on a major U.S. exchange. Please be aware of the risks associated with these stocks.
https://fbs.com/?ppk=forexplatform&lang=en

Source link