Northrop Grumman: A Shareholder-Friendly Defense Stock (NOC)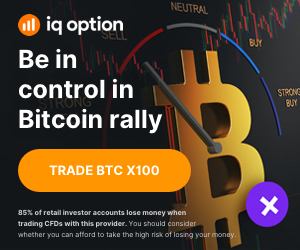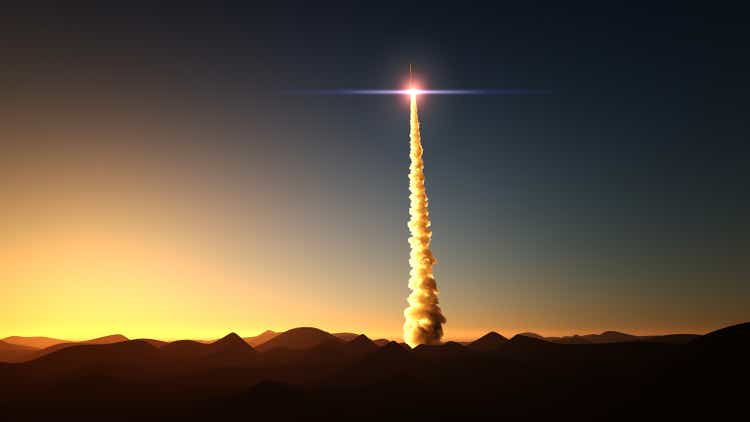 Introduction
I've been aggressively buying high-quality dividend stocks in the past few weeks and months. One of the stocks I added to is Northrop Grumman (NYSE:NOC), one of my all-time favorite aerospace stocks.
My most recent NOC article was written in February when I covered the stock after a nasty 20% decline. Since then, the stock price has been roughly unchanged, which has caused me to add more NOC exposure to my portfolio and some of the portfolios that I manage and advise.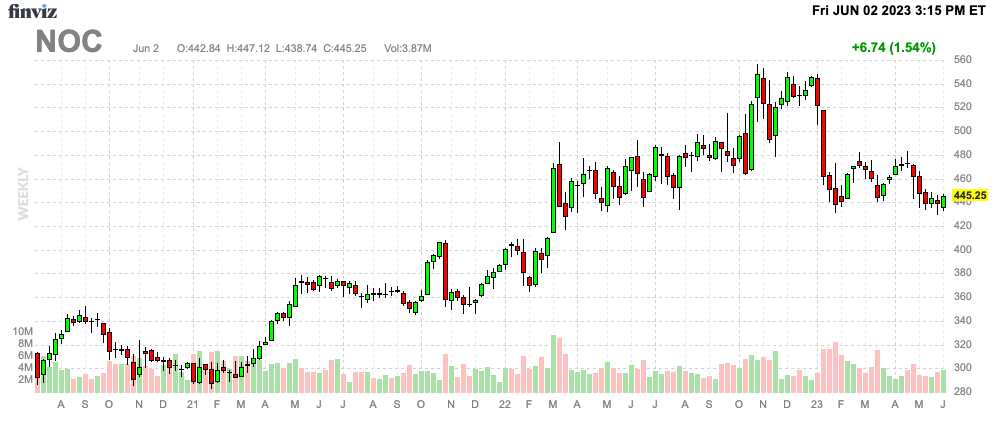 In this article, I will explain my reasoning, which is based on an attractive valuation, a supportive macro environment of strong demand and easing headwinds, and improvements in the company's core operations.
So, let's get to it!
A Shareholder-Friendly Defense Stock
I own four defense contractors in my dividend growth portfolio. They have a weighting of roughly 20%, which makes defense the largest industry in my portfolio.
I added Northrop Grumman because of a number of reasons. One reason is its diversified business. The company combined aerospace, defense systems, cyber, and space, with major exposure in each of these segments.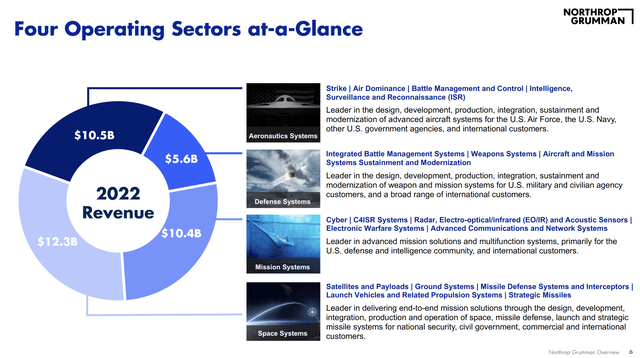 This company, with a market cap of roughly $68 billion, combines the best of all words as it combines high-tech next-gen defense solutions like the B-21 Raider and advanced space projects with its ability to generate shareholder wealth.
Roughly 30% of the company's sales go to restricted customers. 87% of its sales are domestic sales. Half of its orders are based on variable cost contractors, which helps the company to offset inflationary pressures. Even fixed-price contracts incorporate long-term inflation concerns.
Thanks to these tailwinds, the company has a history of tremendous shareholder returns. Since 2013, the company has hiked its dividend by 12% per year.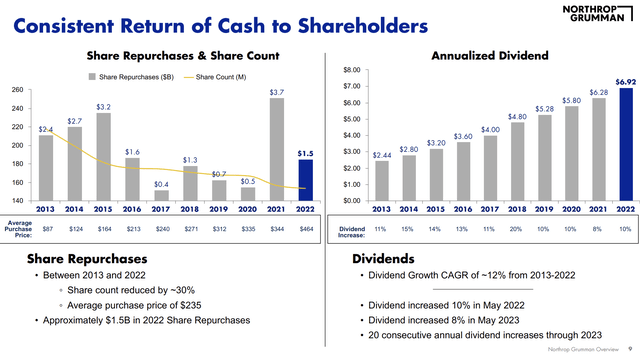 The company is now five years away from becoming a dividend aristocrat.
Furthermore, the company has repurchased 30% of its shares since 2013 with an average purchase price of $235, which is 47% below the current stock price.
Currently, the stock yields 1.7%. That's not extremely high, but it's supported by consistent dividend growth and a cash flow payout ratio of 40%, which is expected to fall due to rising free cash flow expectations (more on that later).
Hence, the only disappointing grade on the company's dividend scorecard is its yield, although I would make the case that its yield is just fine – unless you're hunting for a high yield, in that case, NOC may not be right for you.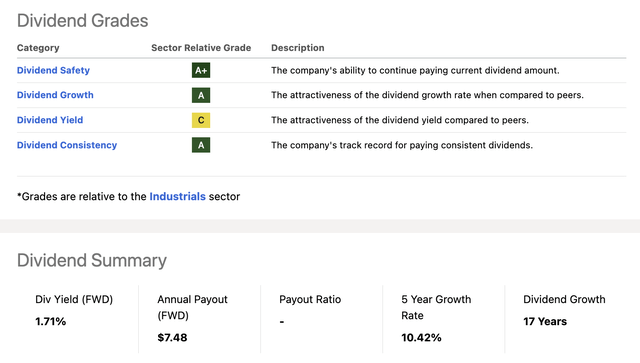 The aforementioned qualities have led to consistent outperformance.
Over the past ten years, NOC shares have returned 531%, which beat both the S&P 500 and the iShares Aerospace & Defense ETF (ITA) by a wide margin.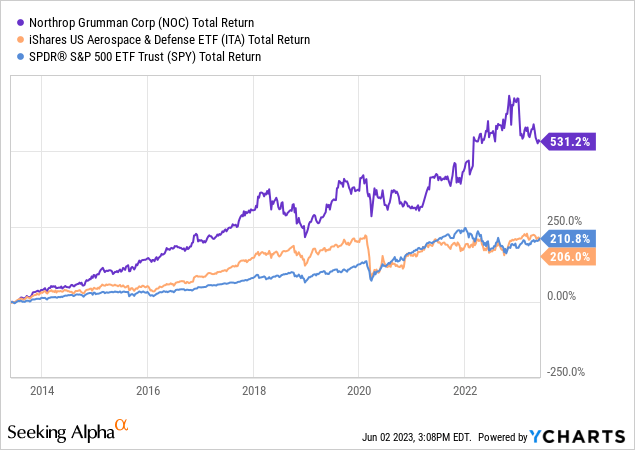 Furthermore, the company isn't exposing its investors to high volatility. The company's volatility is barely higher than the volatility of its peers and the market, despite the fact that we're comparing a single stock to two well-diversified baskets.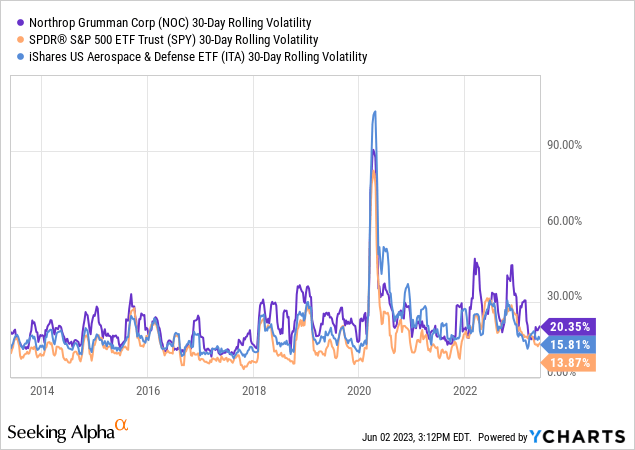 Needless to say, I expect NOC stock to continue long-term outperformance and dividend growth.
NOC Is Thriving
While its stock price may not reflect it, NOC is doing very well.
During this year's Annual Strategic Decisions Conference, hosted by Bernstein, the company reiterated its progress.
The company's CEO, Kathy Warden, expressed optimism about the future growth prospects, with a cash flow outlook of over 20% compound annual growth rate through 2025. She also mentioned the positive impact of support for the President's budget and the growth opportunities in the international market.
The chart below displays (analyst) free cash flow expectations, which project steep and consistent free cash flow growth after the challenging pandemic years, which did a number on supply chain efficiencies.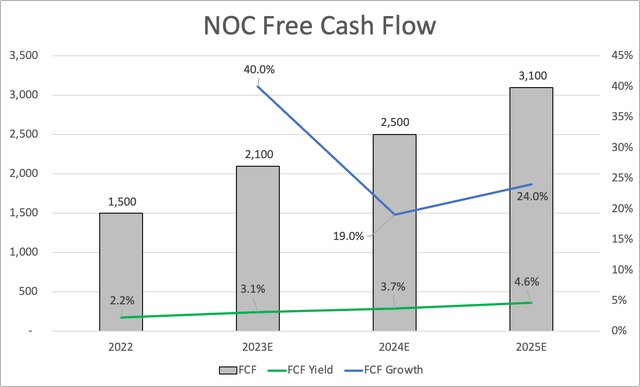 Starting with the budget, analysts are worried that defense budget hikes cannot cover inflation.
Warden addressed these issues as she stated that the 2024 budget's 3% growth rate falls short of keeping up with inflation. However, she also emphasized the bipartisan support for national defense and expressed optimism about returning to healthier growth rates in defense spending in the long term.
Warden explained that while some programs may face delays or prioritization, Northrop Grumman's portfolio aligns well with the highest priorities of the Department of Defense, particularly in strategic deterrent and space domains.
Essentially, this is a way to outgrow peers with less advanced exposure – to put it bluntly. That's why I started this article by highlighting the company's significant space, cyber, and related exposure.
NOC has exposure in the areas that require accelerated funding. That's a big tailwind.
Furthermore, Northrop is a key supplier in the war in Ukraine, where its contributions are in the areas of missile defense and munitions. Northrop Grumman has received substantial contracts related to missiles and ammunition, and it plays a role as a supplier in missile defense systems.
Also, the company's radars are used in Ukraine.
Roughly 10% of the company's revenues are related to missile defense. This includes various programs such as missile warning and tracking for the Space Development Agency, support for the Space Force's OPIR (Overhead Persistent Infrared), ground-based command and control systems for the Missile Defense Agency, and short-range missile defense solutions developed for the U.S. Army.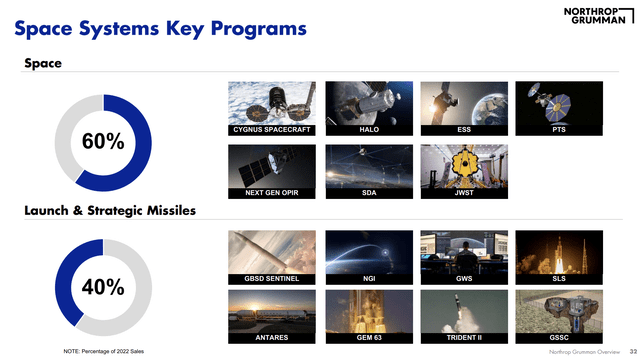 Adding to that, supply chain issues are fading.
Northrop explained that the supply chain disruption has been broad-based, with electronics being the most affected area. However, the impact of past disruptions is gradually dissipating, and the progress made in the second quarter is expected to continue throughout the year.
While the company had to build up more inventory than usual, the effects on larger production programs have been resolved, and the remaining impact is primarily on smaller developmental units, which puts incremental pressure on program costs and margin rates.
Looking at the New York Fed Supply Chain Pressure Index, it's fair to say that the company's comments make sense. Also, after having researched every major defense contractor after 1Q23 earnings, I believe defense supply chains will be back to normal going into 2024.

Furthermore, the company is working on the LGM-35A Sentinel weapon system. This is a critical modernization of the ground-based leg of the strategic nuclear triad, the bedrock of national security.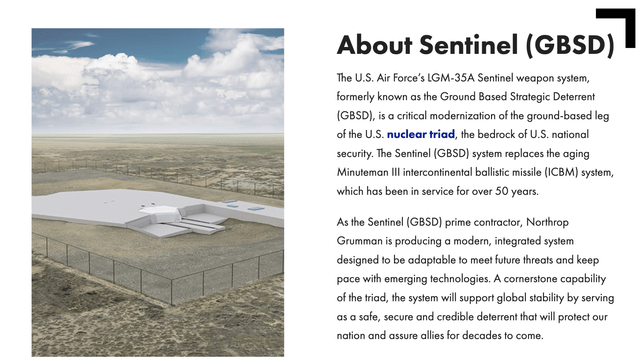 The Sentinel program is expected to contribute to revenue growth, with approximately $500 million of growth in 2023.
Growth will accelerate in 2024 before reaching the maximum rate on the development program around 2025.
Production is expected to ramp up in the 2026 timeframe and continue through the remainder of the decade and into the early 2030s.
This is expected to be supported by outperforming growth in the company's Space segment, although the growth rate may moderate compared to previous years. The company guides at least 10% growth in the Space segment for the current year.
Valuation
The valuation is attractive. Northrop shares are trading at 13.7x 2024E EBITDA of $5.8 billion. This is based on its $68 billion market cap, $10.5 billion in expected net debt (just 1.8x EBITDA), $1.2 billion in pension liabilities, and $5.8 billion in expected EBITDA. That number drops to 12.6x when incorporating the expected EBITDA boost after 2025.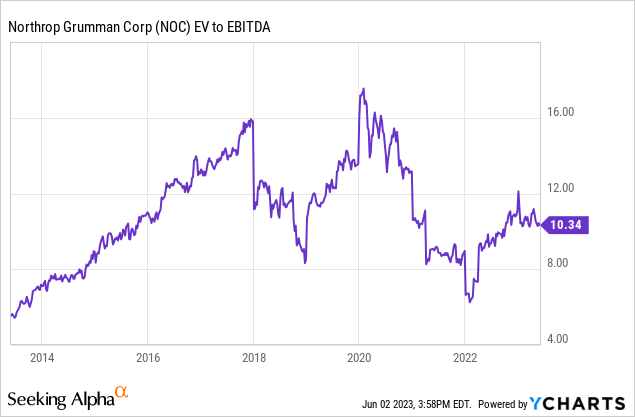 Furthermore, the expected upswing in free cash flow would give the stock a 2025 free cash flow multiple of roughly 20x, which is fair.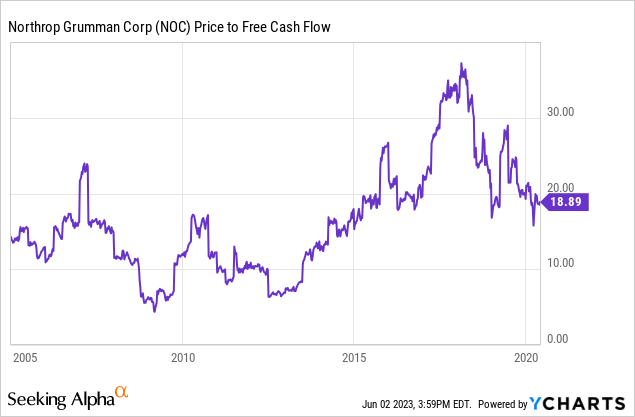 Hence, I agree with the consensus price target of $513, which is 16% above the current price.
On a longer-term basis, I expect NOC to return close to 10% per year, which means we could see the stock price come close to $600 in the next three years.
Takeaway
Northrop Grumman stands as a compelling investment opportunity due to its attractive valuation, diversified business, and history of delivering value to shareholders.
With a market cap of approximately $68 billion, the company combines advanced defense solutions and cutting-edge space projects with a commitment to generating wealth for investors.
Despite a modest current yield of 1.7%, NOC has consistently increased its dividend by 12% annually since 2013 and is on track to become a dividend aristocrat in five years.
Over the past decade, NOC has outperformed both the S&P 500 and the iShares Aerospace & Defense ETF, demonstrating consistent growth and stability.
Supported by positive cash flow expectations and an optimistic outlook for defense spending, NOC is well-positioned for long-term outperformance.
Considering its attractive valuation and potential for future growth, analysts project a target price of $513, presenting a 16% upside from the current price, with the potential for even greater gains in the coming years.
I remain a buyer at current levels, as I believe that NOC delivers tremendous value to my portfolio and the portfolios I advise.
https://fbs.com/?ppk=forexplatform&lang=en

Source link