Crinetics Pharmaceuticals: What Investors Should Know After Stock Skyrockets (NASDAQ:CRNX)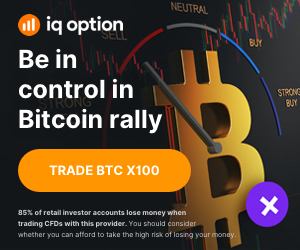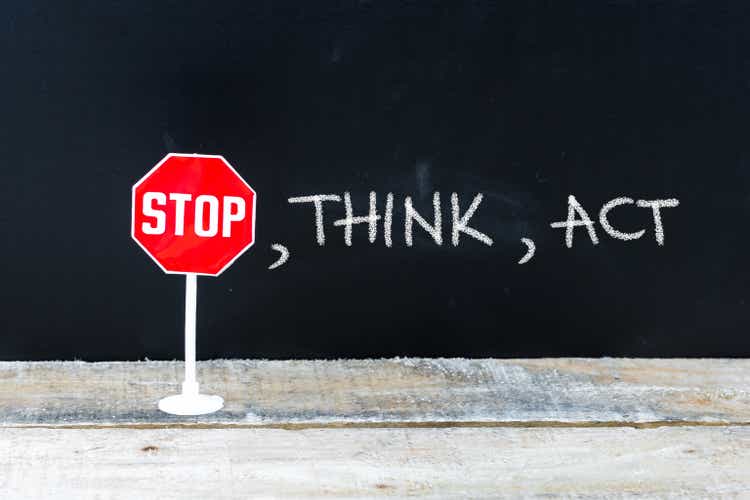 Investment Overview
San Diego-based biotech company Crinetics Pharmaceuticals (NASDAQ:CRNX) saw its share price soar in value last week – initially from ~$16, to ~$28 – a gain of ~75% – before rising to $30 by close of business Friday, for an almost triple figure weekly gain. The spike could have been higher still, but management opted to launch a $350m at-the-market share offering, via the issuance of ~11.5m shares priced at $30.6 per share. Crinetics' market cap has reached $1.95bn at the time of writing.
These types of gains are not uncommon for a biotech releasing data that wows the market – making biotech one of the sectors of the stock market with the greatest potential for explosive gains – this is precisely what happened to Crinetics last week.
On Sept. 10 Crinetics announced that its Phase 3 PATHFNDR-1 study of its lead candidate – orally administered paltusotine – had achieved positive results, meeting its primary endpoint, and all secondary endpoints. The study focused on patients with acromegaly – a hormonal disorder that develops when your pituitary gland produces too much growth hormone during adulthood – switching from standard-of-care injected depot somatostatin analogs. According to a press release:
The study met statistical significance (p<0.0001) on the primary endpoint, based on the proportion of participants taking paltusotine (83%) who maintained an insulin-like growth factor 1 (IGF-1) level ≤ 1.0 times the upper limit of normal ("xULN") compared to those taking placebo (4%). All secondary endpoints also met statistical significance.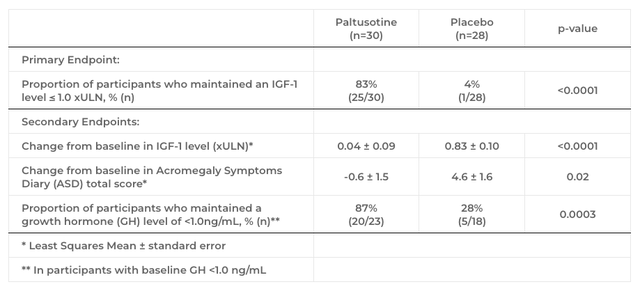 As we can see above, 25 of 30 patients achieved the primary endpoint, while the improvement in Acromegaly Symptoms total score was marked between the treatment and placebo arm. Importantly, the study did not uncover any significant safety concerns, with no serious or severe adverse events reported, and frequency of participants with at least one treatment emergent adverse event ("TEAE") broadly similar to placebo. The press release added that:
The frequency of adverse events considered related to acromegaly was notably lower in paltusotine treated participants compared to placebo treated participants (30% vs. 86% respectively).
Paltusotine represents a "new class of oral selective nonpeptide somatostatin receptor type 2, or SST2, agonists," according to Crinetics' latest quarterly report (Q223 10Q submission). The drug's mechanism of action ("MoA") is described as follows:
Somatostatin is a neuropeptide hormone that broadly inhibits the secretion of other hormones, including growth hormone, or GH, from the pituitary gland. Acromegaly arises from a benign pituitary tumor that secretes excess GH that, in turn, causes excess secretion of insulin-like growth factor-1, or IGF-1, by the liver.
Crinetics completed its initial public offering ("IPO") back in July 2018, raising ~$102m via the issuance of 6m shares priced at $17 per share. Back then, Paltusotine, known as CRN00808, had just reported promising Phase 1 data. The company's share price has been volatile, with shares having ultimately slipped from post IPO highs of >$35, to an almost three-year low of $15, before last week's news.
Acromegaly Market Overview – Limited, Competitive Market May Prove Challenging – But Label Expansion Opportunity Significant
Acromegaly is a disease that can elude diagnosis as symptoms develop over time and not be immediately obvious – these include – according to the Mayo Clinic – enlarged hands, feet, and facial features, thickened skin, excessive sweating and body odour, fatigue and joint and muscle weakness, vision problems, headache, menstrual cycle irregularities in women, and erectile dysfunction in men. Left untreated, acromegaly can lead to fatal complications caused by co-morbidities.
The first treatment option for acromegaly is usually surgery, although according to Medscape, "in long-term studies, surgery has been found to cure only approximately 60% of patients with acromegaly." According to Crinetics research, that leaves a patient pool in the US of ~11k patients, who are currently treated with injected peptide somatostatin agonists and GH receptor antagonists. According to Crinetics' latest annual report (2022 10K submission):
There are three injected somatostatin analogs approved for the treatment of acromegaly: octreotide (marketed by Novartis AG (NVS)), lanreotide (marketed by Ipsen Biopharmaceuticals, Inc.) and pasireotide (marketed by Recordati Rare Diseases Inc.). Pegvisomant (marketed by Pfizer Inc.) is a daily injectable growth hormone receptor antagonist and is generally used in patients not fully controlled on somatostatin analogs. Orally administered dopamine agonists, such as bromocriptine and cabergoline, are also used.
The orally available MYCAPSSA, for long-term maintenance treatment in acromegaly patients who have responded to and tolerated treatment with octreotide or lanreotide, was marketed and sold by Amryt Pharma – earning revenues of $5.7m in Q322 – before the company was acquired by Chiesi Pharma, but it's clear that ~$2bn market cap Crinetics sees a much bigger market opportunity in play for paltusotine.
Based on an average annual cost for injectables of ~$70k, and a patient population of 11k, Crinetics views its market opportunity as ~$800m, although is that, in itself, large enough to support such a high valuation?
The company will be confident patients will want to switch from an injectable to an orally available therapy, given the convenience, although Paltusotine will be pitted against drugs marketed and sold by large Pharmas e.g. Novartis (NVS) and Pfizer (PFE) with far greater resources.
Last week's fundraising ought to help support a full commercial launch and marketing activities, although the PATHFNDR-1 data will not be enough to support FDA approval. For that, data from a second, ongoing, pivotal study – PATHFNDR-2, which is being conducted in patients not previously treated with injectable octreotide or lanreotide – will be required.
That data ought to arrive in 1Q24 – an important date for owners or prospective buyers of Crinetics' stock to circle in their diaries – with an New Drug Application ("NDA") submitted to the FDA immediately after, provided data from the second Phase study is positive.
Expansion Opportunities Begin With Carcinoid Syndrome
Another important date investors will want to be aware of will arrive in the fourth quarter of this year (no precise date has been given) when Crinetics announces preliminary data from a Phase 2 study of paltusotine in carcinoid syndrome.
Carcinoid syndrome is caused when neuroendocrine tumors ("NETs") "secrete hormones or other chemical substances into the bloodstream that cause severe flushing or diarrhea, among other symptoms" (source: Crinetics 10Q), and affects ~33k patients in the US, all of which Crinetics believes could be treated with paltusotine, creating a $3.3bn market opportunity.
In total, according to a Crinetics investor presentation, Novartis' sandostatin – approved to treat acromegaly and NETs – earned $1.23bn globally in 2022, and $774m in the US, while Ipsen Pharma's somatulin earned $1.55bn globally, and $908m in the US.
It's these kinds of numbers that are likely fuelling Crinetics' recent share price gains – with its strong efficacy data in acromegaly, investors will expect to see similar in the Phase 2 Carcinoid study, and with its oral availability and solid safety profile, it's arguably not unrealistic to speculate that long term, and if approved in all indications, paltusotine could drive blockbuster (>$1bn per annum) sales revenues.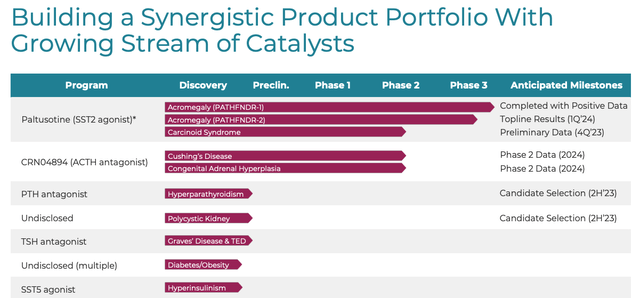 As we can see above, the paltusotine opportunity is slightly derisked by the fact that Crinetics already is developing CRN04894, a next-generation candidate that's designed to antagonise the adrenocorticotropic hormone ("ACTH") receptor, and indicated for diseases characterized by excess of ACTH such as Cushing's Disease and Congenital Adrenal Hyperplasia ("CAH").
Corcept Therapeutics (CORT) mifepristone – marketed and sold as Korlym is indicated for Cushing's syndrome – Corcept management has indicated it expects to earn $455m – $470m in 2023 from this drug. The 2 Phase studies of CRN04894 in Cushing's and CAH are designed to "collect information needed for a Phase 3 Design." Based on the type of data required for approval, it's possible a Phase 3 could take less than 12m to complete, meaning an approval shot could arrive as early as 2025.
Speculating On Valuation Of Crinetics Today and Tomorrow
When evaluating a biotech investment opportunity, it's certainly easier to consider a company that has already obtained positive Phase 3 data, as Crinetic's has with lead candidate paltusotine, because it derisks (to an extent) the probability of the FDA's refusing to approve the drug after considering the evidence put before it.
I tend to consider a forward price to sales ratio of 3-5x, which tends to be the range in which large pharmaceuticals companies trade, therefore in Crinetic's case, if we're optimistic and assume that, long term, there's a blockbuster opportunity in play, we can make the case that the company's shares could trade at a premium of 55% – 165% to current price by, say, 2026.
Perhaps more realistically, however, noting the very low sales of currently available oral therapy MYCAPSSA, if we cap peak revenues from acromegaly alone at ~$250m, we could make the case that, based on late stage data alone – and bear in mind confirmatory data is still required from the PATHFNDR-2 study that paltusotine works independently of currently available injectables – Crinetics' stock looks a little overvalued.
Even when we consider the additional opportunities we cannot be certain that paltusotine will successfully take market share from Novartis and Ipsen's injectables, so personally I'd be reluctant to look beyond a $750m per annum ceiling for paltusotine across all indications, restricting the upside opportunity to <20%, and I'd be reluctant to increase that by much based on CRN04894 with no Phase 2 data to consider yet.
In Q2 2023, made a net loss of $53m, and >$100m across the first half of 2023. The company is cash rich, boasting $264m of near-term cash before last week's $350m fundraising, but late stage studies and marketing expenditure can quickly erode >$500m cash in a couple of years, and newly commercial stage biotechs often find profits elusive. With that said, Corcept Therapeutics, for comparison, has driven net income >$100m in 2021 and 2022, and has a market cap valuation of $3.4bn.
Concluding Thoughts – Ways To Play The Surge In Stock Price
Long-term investors in Crinetics will be pleased with the ~50% return on investment since IPO, while anybody who showed faith in the company when the stock price was in the doldrums may have made a handsome profit.
Frankly, the data for paltusotine appears to have been consistently positive therefore its difficult to see why the market had been selling Crinetics' stock prior to its PATHFNDR-1 data readout last week.
Unfortunately, if Crinetics was undervalued two weeks ago, today and going forward I would not be surprised to see the company's momentum checked for a while as we wait for PATHFNDR-2 data, and perhaps even more importantly, the Carcinoid Syndrome data, which could be the key to unlocking further upside thanks to the larger market opportunity.
With shares now trading at their highest price since 2018, I'd maintain a watching brief for the time being rather than jumping on the paltusotine bandwagon. We don't have much clarity on when the Carcinoid data will arrive, and we should also note it is a Phase 2 Open Label study rather than a placebo controlled, pivotal study, which is perhaps what would be required to support another major share price spike on positive data.
Because the market opportunity is somewhat uncertain in acromegaly, and there's a reasonable amount of competition – even if the oral vs. injectable argument could easily go in Crinetic's favor – the time to consider opening a position in Crinetics could be in a month or so time, if the share price corrects downward somewhat after last week's spike.
I'd rate the investment opportunity in relation to Crinetics as intriguing, and the company's progress worth following, and I'd consider a buy if the share price dips <$20, personally. Last week's fresh validation of paltusotine and its MoA was very encouraging, but the opportunity is not fully derisked with the PATHFNDR-2 data still to come. If that data does not deliver the hoped for validation, the risk of investors losing a large chunk of their investment is very real.
https://fbs.com/?ppk=forexplatform&lang=en

Source link